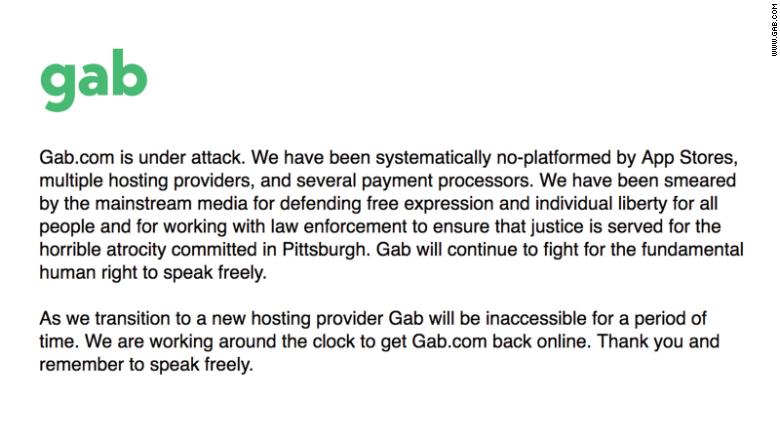 The above statement appeared today on the gab.com social network, which allows all manner of speech, including what many dub hate speech, following a shooting spree by one of its users at a Pittsburgh synagogue where 11 worshipers were slain.
Alleged shooter Robert Bowers had posted a bio that slandered Jews as "the children of Satan." Shortly before the attack on the Tree of Life synagogue, he posted on Gab: "Screw your optics, I'm going in."
According to USA Today, hosting provider GoDaddy gave Gab 24 hours to switch providers because the website violated its terms of service: "GoDaddy investigated and discovered numerous instances of content on the site that both promotes and encourages violence against people."
USA Today also noted that Medium, an online publishing tool, suspended Gab's account because the platform was used to disseminate statements associated with violence, including one right after the synagogue attack on Saturday.
Mashable reported that Gab has been banned by PayPal, "and fellow online payment service Stripe is looking to cut off the site. Gab's new hosting service, Joyent, reportedly will suspend the site from 9 a.m. ET on Monday, Oct. 29."
Gab was created in 2016 as an alternative to traditional social networks like Twitter and Facebook. Shortly after going online, founder Andrew Torba told BuzzFeed:
"What makes the entirely left-leaning Big Social monopoly qualified to tell us what is 'news' and what is 'trending' and to define what "harassment" means? It didn't feel right to me, and I wanted to change it, and give people something that would be fair and just."
The New York Times noted that Gab gave far-right activists like white nationalist leader Richard B. Spencer a platform by which to express what many would label repugnant views. In 2016, critic-at-large Amanda Hess wrote that Gab is "a throwback to the freewheeling norms of the old internet, before Twitter started cracking down on harassment and Reddit cleaned out its darkest corners."
This week the Washington Post reported that Torba is taking steps to revive Gab, vowing that he will rebuild it from the ground up, if necessary. The Post writes that Torba has become "a charismatic leader of the 'alt-tech' movement which, among other things, dedicates itself to protecting and building tech to house 'free speech' — including extremist ideologies that are increasingly unwelcome on mainstream sites."
Gab does prohibit threats of violence, illegal pornography, or posting of private information without consent. A key feature has been platform tools that allow users to filter out objectionable content.