Photoshopped stock images of athletes–with applicant faces alongside fake profiles–were used in the college admissions scandal to gain access to elite colleges. Parents paid millions to an organization whose digital methods were no match for modern-day wiretap technology. Some of those parents are headed to jail.
An account of the cheating scandal, published in Inside Higher Ed, has led to 50 indictments involving non-athlete applicants, bribed coaches and rigged SAT/ACT scores to ensure acceptance at elite and competitive colleges.
Among those indicted were actresses Felicity Huffman and Lori Loughlin, along with wealthy parents in law and business. They paid millions in a rigged system so that their children could take slots that other applicants deserved based on grades, test scores and/or athletic abilities.
Huffman was sent to prison for 14 days. She was incarcerated in a facility that Forbes has described as "Club Fed," noting: "Its prisoners enjoy a mild climate, access to e-mail, a chance to reduce their sentence via on-site rehab and occupational programs like horticulture and cosmetology."
Loughlin is fighting her charges and is expected to do more jail time if convicted.
Federal investigators used wiretaps to gather evidence against the accused and the scheme's mastermind, Rick Singer, who ran Edge College & Career Network and a foundation created to conceal bribe money.
Not all cases involved non-athletes taking recruitment slots reserved for worthy applicants with athletic ability. However, Division I coaches from Georgetown, Stanford, Texas, UCLA, USC, Wake Forest and Yale were charged in the scheme. Use of recruiting slots reportedly was one additional method of ensuring acceptance.
The lesson here, however, concerns the sophisticated technology of modern-day wiretap in federal investigations. Cornell Law School lists these methods:
Examples of electronic surveillance include: wiretapping, bugging, videotaping; geolocation tracking such as via RFID, GPS, or cell-site data; data mining, social media mapping, and the monitoring of data and traffic on the Internet. Such surveillance tracks communications that falls into two general categories: wire and electronic communications. "Wire" communications involve the transfer of the contents from one point to another via a wire, cable, or similar device. Electronic communications refer to the transfer of information, data, sounds, or other contents via electronic means, such as email, VoIP, or uploading to the cloud.
Technology used in the cheating scandal was easily detected. In some cases, ordinary computer programs were used to manipulate images and create fake digital content. Here's an example obtained through wiretap: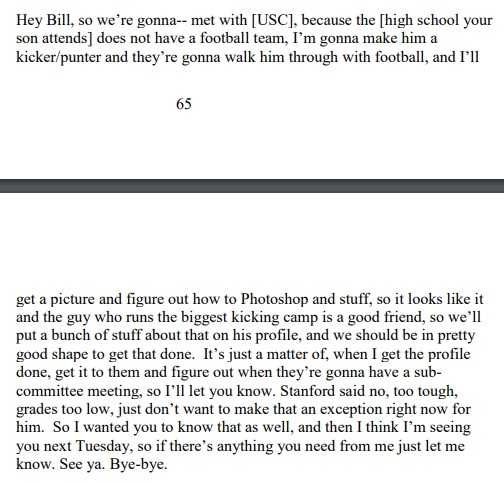 Some universities have expelled students in the cheating scandal; others have not. Reports indicate that many such students did not realize what their parents had done to get them into top programs.
Reportedly, Lori Loughlin and her husband Mossimo Giannulli, agreed to pay $500,000 in bribes to have their two daughters, Isabella, 20, and Olivia, 19, "designated as recruits to the USC crew team — despite the fact that they did not participate in crew — thereby facilitating their admission to USC."
In one case, prior YouTube posts by Lori Loughlin's daughter Olivia Jade Giannulli caused a stir on social media shortly after the scandal broke.
Latest reports indicate that Gianulli is not planning on returning to USC and has taken a break from social media, apart from wishing her mother a happy birthday and one deleted an Instagram post with her giving media the middle finger.
Interpersonal Divide in the Age of the Machine includes chapters on use of technology to create fake and misleading content and the ramifications of that at home, school and work.
Here's an excerpt:
Media and technology have always manipulated self-image, values, and perception. However, the current high-tech era is unique because of the power of the electronic tools, the time that we spend using them, the tasks that we relegate to machines out of convenience, and the influence of the corporations that manufacture them. The net result is a blurring of boundaries. The real and virtually real—including augmented reality, or computer enhanced views of life and locale (as in GPS technology)—have blended to such degree that we cannot always correctly ascertain what is genuine and enduring from what is artificial and fleeting. That type of confusion comes with its own set of interpersonal and societal consequences, complicating our lives and relationships, not because we are necessarily dysfunctional, but because we have forgotten how to respond ethically, emotionally, and intellectually to the challenges, desires, and opportunities of life at home, school and work.
The societal consequences in the college admissions scandal is a prime case of privileged people failing to respond ethically, emotionally and intellectually. Now they face the consequences. As Boston US Attorney noted, "There can be no separate college admission system for the wealthy, and I'll add there will not be a separate criminal justice system, either."